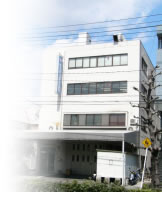 Needles have been an essential tool for human beings since ancient times. Although not ancient history, the history behind needle production in Hiroshima, a delta-town located in the southwest part of mainland Japan, stretches back to more than 300 years ago. Needle manufacturing has crossed over many ages now and has become a very well known industry in Hiroshima. gCan we not make use of the intrinsic production skills that comes with needle production in other fields?h
With traditional methods at our base, we have come a long way in our technological innovations.
We are now living in a world where the accuracy requirement in the field of electronics-based inspections is less than 100 microns. However, this demand cannot be met without the combination of initiative and the latest technologies. We are now in the 21st century, and the fast pace technological innovation is only getting faster. The coming of the Internet Age is now not possible without the advancement of micro-technologies in the field of electronics. While we continue to develop our traditional techniques in that area, we are accumulating still more skills. We dedicate ourselves to answering to our customersf wishes, and we are continuously endeavoring to meet new goals and new demands.
We would like to ask that you continue to show us the kind of support that has made our company what it is today.