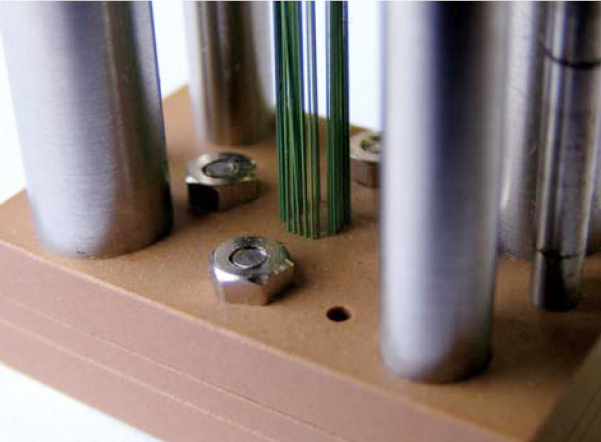 ---
■Structure of Fixture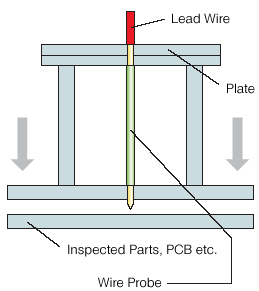 ---

■Feature of Tulip Wire Probe


1) Stable Tip of Shape

For long year's, our company have manufactured grinded products. This experience make possible to stable tip of shape, even if very small diameter.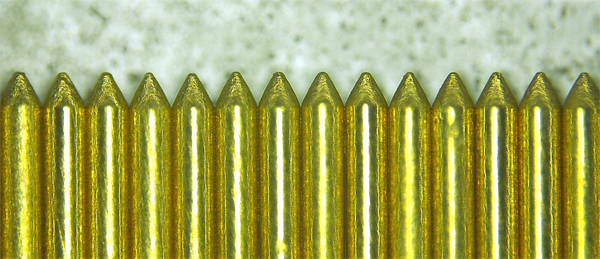 φ70μm, 60degree Ball Point
---

2) Precise Isolation Coating

◆Change of Isolation Coating in Tulip Wire Probe
Fluorocarbon Polymers Coating
(Sprayed)

Epoxy Resin Coating
(Electrodeposition Coating)


This probe don't have stable coating thickness and position.


For solving problem, we installed equipment of electrodeposition coating machine.

New Process Added Products
(Present Style of Coating)

For meeting customer's high level demand, we added new process. It make possible stable coating thickness, position and clear edge!


◆Present Style of Tulip Wire Probe





Tip of Shape


60B

60 Degree Ball Point

※Available for Requested Angle and Tip Diameter.

T

Chisel

Q

Hemisphere

F

Flat


Specifications


| | |
| --- | --- |
| Diameter | φ0.03×0.11mm |
| Material | W(Tungsten)、Re-W(Rhenium Tungsten)、SKH(High Speed Steel) |
| Plating | Ni+Au、Ni+Pd |

Charasteristics:in the case of Tungsten


Dia.×Length

0.11×30

0.09×30

0.07×30

0.05×20

Standard Pitch
(mm)

Pin Pressure
(g)

Pin Dia.
(mm)

Isolated Area Dia.
(mm)

Electric Resistance
(Ω)

Parts No. Style






If you need another kind of probe, please feel free to contact us any time.
▲Return to top page
Copyright 2005-2011 Tulip Co.,Ltd.